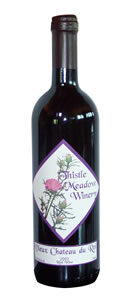 Our wine list includes a wide variety of wines - dry reds, dry whites, blush wines and sweet wines - even cooking wines - so you're sure to find a wine that matches your taste. Many of the wines made at Thistle Meadow Winery are named after landmarks, communities, or people found in Alleghany County, NC.
Click on a link below to see a full description of the wines we have in that category:
Be sure to check out our award-winning wines!
Shopping? Order your wines online!