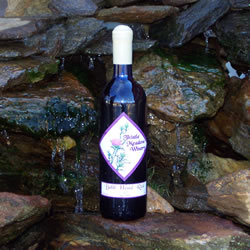 Created by entrepreneur Tom Burgiss, a retired pharmacist, Thistle Meadow Winery is in its 21st year of operation. Still a small, family run business, the winery produces about 1500-1700 cases of wine each year. The wine is available from the tasting room as well as select local restaurants and retail stores:
We ship wine to wine lovers in over 30 states. Due to privacy concerns imposed by Raleigh, we do not ship our wines within North Carolina. Our aim is to have our guests come by for a visit, a tasting, and wonderful, relaxing experience here in the beautiful Blue Ridge Mountains of North Carolina. Just recently, we were ranked third among North Carolina wineries by the South Eastern Winery Review and scored a perfect "10" in friendliness. We invite you to come to our winery, enjoy our fine wines and experience firsthand just how friendly we are. Our motto is, "Try before you buy!"
Located in one of the luscious valleys of Laurel Springs in Alleghany County, Thistle Meadow Winery has some 20 varieties of wines available for your enjoyment. Wines are made in small batches which allows for blending the complex flavors of the many grapes obtained from all over the world. Our busiest seasons are late spring, summer, and fall. We encourage folks to come and taste the difference.
In our gift shop, we pride ourselves on unusual wine-related items, not found in most winery gift shops. The gift shop is connected to the winery and is full of books, wine-related knickknacks, and some surprises for those who enjoy wine and its many facets. In addition to the delicious variety of wines offered, we can even host your outdoor wedding in the meadow next to the winery.
There is more to discover on the following pages: