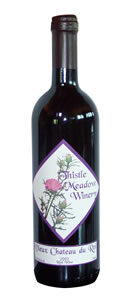 Thistle Meadow Winery offers a variety of custom winemaking services:
Private Label Wines
Whether you're a restaurant, country club, or private individual, Thistle Meadow Winery can provide a private stock of wine with your personalized text and graphic information on the label. You can even pick the type of bottle and capsule! Note: all wine labels must be approved by the TTB and the State of NC.
Possible uses for private label wines:
A restaurant that wants to promote and sell their own line of wine
A country club that would like to serve its members and guests their own private stock of wine
An individual who wants to commemorate a special event (such as a wedding, reunion, etc.) with a special message on a wine bottle
A business that is hosting a large gathering or event and would like to advertise their company
We will gather and submit all the required paperwork for your label to the federal government and the State of North Carolina so you won't have the task. That's a real plus!
Custom Wines and Blends
Looking for something out of the ordinary? We can create a custom wine or blend that matches your specifications. Believe it or not, wine can be made out of any edible plant, including dandelions, onions, jalapenos, and pumpkins! Speak with Brant to learn more.
Wine Tasting Service
If you'd like to introduce your friends or clients to the hobby of wine enjoyment, why not ask us to join you at your next party or fundraiser to conduct a wine tasting? We can provide tips to your guests on:
How to properly taste and enjoy wine
How to read a wine label
Food and wine pairings
Easy ways to open bottles of wine
How to decant wine
How to conduct their own wine tasting
Private Parties at the Winery
Thistle Meadow Winery is available to rent for private parties. Depending upon the layout requested, we can accommodate parties of 8 to 24 people. Interested? Just send a note and let us know more about your get-together.
Weddings at the Winery
Let us host your special day! Several couples have celebrated their wedding day at Thistle Meadow Winery, from small intimate ceremonies on the lawn of the winery to large outdoor galas in the adjoining meadow. Not only can we provide the wine for the reception, but you have the privilege of selecting your own caterer for your wedding event. Contact Brant Burgiss at 336-359-2995 and let him know how we can help.
Public Speaking Services
Contact us by phone at 800-233-1505 or send us an e-mail to arrange for a program for your local non-profit organization or civic club.
Other Services
We're open to suggestions on the other types of individualized services we can provide for you or your organization. Please contact us and let us know how we can serve you.