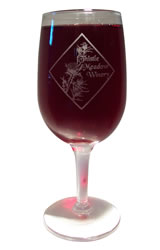 Thistle Meadow Winery is unique in many ways, but perhaps the most interesting fact about our winery is that we make wine in small batches from grapes grown around the world.
Want a great Old Vine Zinfandel? Then you better get the best grape juice from Lodi, California.
How about a wonderful Merlot or Cabernet Sauvignon? Obtain the raw materials from France, Chile, Argentina, or Spain.
Or what about a refreshing Riesling or Ice Wine made from German grapes?
As you can see, we make wine from where the best grapes are grown - from Australia, California, New Zealand, South Africa, and the United States to Germany, France, Argentina, Chile, and Italy - and more! Our suppliers select the best crops from the most discriminating vineyards in the world, and ship the concentrated juice to us for winemaking.
The result is a taste that will rival anything you can purchase in the best wineries around the world. We invite you to come up for a visit and have a taste for yourself!