For a winemaker, patience is indeed a virtue. Friendliness and a willingness to share knowledge certainly count, and that's great if you're coming for a visit to our winery. Where else can you take a tour of a winery and have the opportunity to speak directly with the winemakers themselves?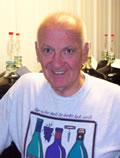 Tom Burgiss
Tom Burgiss didn't originally plan to be a winemaker, but his training and 40-year career as a pharmacist certainly helped prepare him for his role as founder of Thistle Meadow Winery. Although Tom passed away due to complications from COVID-19 in February 2021, his skills as a wine mixologist are legendary in the hills of North Carolina.
Tom first began making wine after a visit to Victoria, British Columbia in 1996 where he discovered the art of making wine at home in small quantities. Over the years, Tom made hundreds of batches of wine, and he was an expert at tweaking a wine to fit the most discriminating palate. His favorite wine was Bergamais (our winery's version of a Beaujolais style wine), because he said it's good for the heart. Tom's maternal grandfather built the old family farmhouse that can be seen across from the creek from the winery in the 1890's.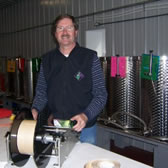 Don Mabe
One of Thistle Meadow Winery's winemakers is Don Mabe. Don is a lifelong resident of Laurel Springs and has been a member of the Laurel Springs Volunteer Fire department for 10 years. He is also a Medical Responder.
Don has one son, Brian, who serves as a sheriff's deputy in Alleghany County, NC.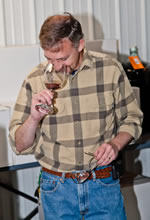 Brant Burgiss
Brant, who is Tom's son, has been making wine since 1998. He currently acts as Thistle Meadow's general manager and winemaker in charge of quality control. He has made wines from fresh fruit (grapes, blueberries, strawberries, etc.), grape juice concentrates, frozen must from California and Chile, and even vegetables (pumpkin, garlic or jalapeno wine, anyone?). Before turning pro in 2012, many of Brant's wines have won medals in the WineMaker Magazine's annual winemaking competitions, which hosts the world's largest amateur wine competition. He also helps troubleshoot wine problems for folks who make their own wine at home.
Brant is married to Amy, and they have two daughters, Ashley and Mary Beth.