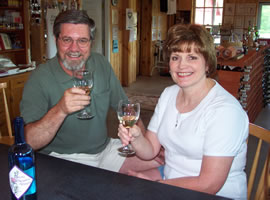 Your visit to Thistle Meadow Winery isn't complete until you've experienced a personalized tour of our winery.
Due to staff limitations, we are not conducting tours at this time.
Tours generally take about 30 to 45 minutes to complete, and offer visitors the chance to see the "behind the scenes" process of winemaking up close. Once tours are offered again, please call ahead to make arrangements for a tour. We may not be able to accommodate you if we are busy in the tasting room or have limited staff on duty during your visit.
Depending upon your past experiences with wineries, tours, and winemaking - from no experience to lots - we will do our best to tailor the tour to fit your interests. For instance, if you've never visited a winery before, we'll provide a high level overview of all the various winemaking processes before we dive into the tasting part of your tour.
Thistle Meadow Winery provides complimentary crackers and fresh mountain spring water to help cleanse your palate between samples of wine.
In general, your tour of Thistle Meadow Winery will cover the following topics:
History of the winery
Origins of our raw materials
Description of winemaking process, including a walk through of our facilities
Q & A
Tasting
The tasting fee costs $12.00 per person, which includes tastings of up to 5 different wines.* Souvenir wine glasses are available at a reasonable cost. Thistle Meadow Winery can handle groups of up to 25 people. For group tour rates, please contact us to request a quote. Van or bus tours must make prior arrangements with management.
Following your tour, you may wish to browse our gift shop for other souvenirs of your trip to our mountaintop winery in Laurel Springs.
Here are some comments from recent winery visitors:
- "This is the best [red wine] I've ever had!"

- "We've visited several wineries over the years, but your wine is the simply the best!"

- "It was definitely worth the trip up the mountain. The wine is great and the scenery is gorgeous!"

- "Give me a case of that stuff!"

- "That watermelon wine is crazy good. And the Horse Stomp Red served with dark chocolate is heavenly!"