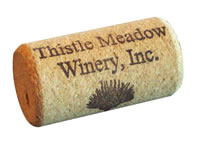 Thistle Meadow Winery offers many tangible ways to remember your visit to our winery. Without a doubt, the most popular souvenir is a glass of your favorite wine - and you get to keep the glass!
We offer lots of unique wine-themed gifts, such as:
Wine glasses (plain or with our logo)
Wine gift bags
T-shirts and sweatshirts
Corkscrews
Hats
Wine charms (help you identify your wine glass)
Aprons
Bumper stickers
Ties
Coasters
Wine pumps
Decorative corks
Wine labels (you ARE a collector, aren't you?)
Cocktail napkins
Door mats
Decorative tiles
Mouse pads
Cork retrievers
We accept all major credit cards - Visa, MasterCard, Discover, and American Express - as well as cash and personal checks with ID.